NYC AUTO TOWING SERVICE
Complete towing service NYC from Xoom Towing with quick response times and reasonable rates for every Borough in NYC. If you're facing an automotive breakdown or an inability to operate your vehicle then press the company with the knowledge, pools, and friendliness the Hoist you in a safety!
NYC Auto towing services Xoom Towing gets your location in NYC pronto! The right trucks are in every Borough equipped with flatbeds and I'm voiced police to ensure the proper care of your vehicle and motorcycle. We even tow other tow trucks!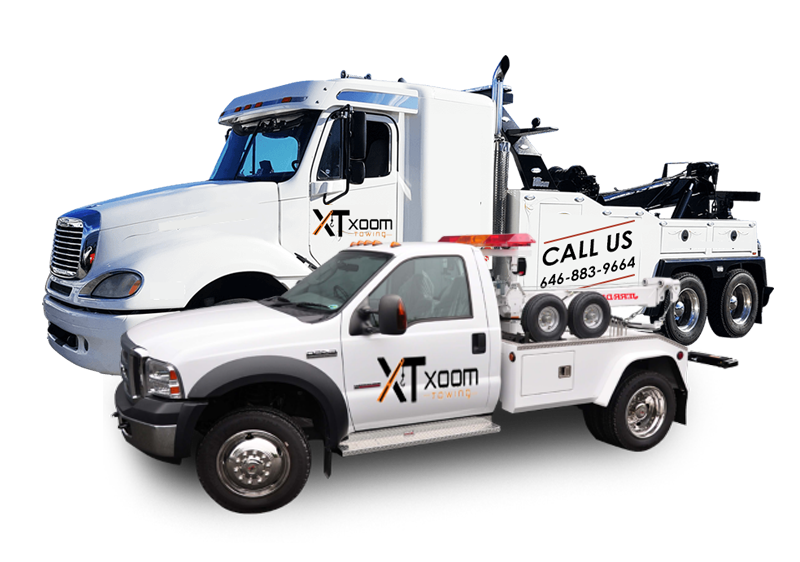 FEATURED AUTO TOWING SERVICES
NYC Auto towing services that get you where you want:
Auto Towing
Call for vehicle Towing in NYC if you have had an accident or your car will not start. We can send the right tow truck out to you based on your model and service luxury cars. Will either tell you the closest repair shop or to a facility of your choice. We can do long distance towing and we have a media Emergency Services ready to tell you anywhere you need in NYC today. Affordable towing services are available from Xoom Towing.
JUNK CAR REMOVAL
Do you have a car parked on your property let you want gone. Then Xoom Towing can remove your junk Vehicles be at your own or another stranded on your property. We are licensed by the city to remove junk cars and disable them from your records within the DMV. We can help you with this process and make it a tax deductible write off. We can remove vehicles blocking driveways as well even if they are not junk. We offer the most reasonable rates for removing junk cars in NYC.
LONG DISTANCE TOWING
Is there somewhere you want to go in your vehicle but don't want to drive? Leave it to Xoom Towing to get your car anywhere in the continental United States and even overseas with our long distance Towing from NYC service. We can ship from or to NYC your vehicle and have it done under budget and on schedule. We have a complete Logistics team that can organize the route and timing of your vehicle so that it arrives exactly when you want it to you and you can track it the entire way through from beginning to end. No need for GPS with Xoom Towing long distance towing service.
AFFORDABLE TOWING IN NYC
Xoom Towing provide excellent service with a smile to all our customers. One of the major impacts that we can do is reducing the budget that you will end up spending for tow truck. Most of the time there is not good call for ordering a tow truck service and you want professionalism from beginning to end. That is why our drivers understand the stress in your life related to a broken down vehicle in NYC. Xoom Towing rushes right to your side in the middle of the night or in the middle of Rush Hour traffic to get you to the auto shop of your choice or the nearest local auto shop. Even your home or across the country is still a possibility with Xoom Towing.
NYC Broken-Down automobiles want you to call Xoom Towing because they know how to take care of the undercarriage of your car 646-883-9664